Designers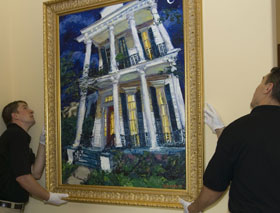 After multiple months or years of finding the perfect interior solution for each specific client White Glove Storage and Delivery, an ASID Industry Partner, can help bring everything together.
This is the moment that each client has been waiting for and we are there to take on that responsibility. With painstaking attention to detail we are able to assemble your clients' wishes piece by piece.
At White Glove Storage and Delivery we pride ourselves on the close working relationships we foster with designers. We strive on working to make sure each project is an absolute success.
No project is too large or complex, and we can handle multiple ongoing projects for the same designer nationwide. White Glove Storage and Delivery has managed projects encompassing single room renovations to massive relocations.
Personalized Receiving
White Glove Storage and Delivery's clean, secure, state of the art warehouse facilities are fully equipped to receive quantities ranging from a single box up to an entire container, and more. We assist from the moment an order is made by participating with our clients directly so that we know what is to arrive before it hits our dock.
After your merchandise has been received we fully inspect what has arrived for any damage, defects or missing parts/pieces. We then contact you immediately by phone, log it into our state-of-the art inventory control software system then email you a typed condition report with pictures.
Our software is able to accurately track everything that enters and/or exits our facilities, its condition and its specific location.
We can also arrange packing and shipping solutions as well as assist with freight claims from start to finish should the need arise.
Freight Claims
We are also able to arrange shipping solutions and assist with freight claims from start to finish should the need arise.
We go the extra mile to make this process as convenient as possible; that's what we mean when we say that we are your "Warehouse Concierge".
Flexible Storage Plans
Our climate-controlled, showroom-style facilities are conveniently located in Austin and Dallas, Texas. You and your clients will enjoy quick, efficient access to your stored items with room to stage rugs, artwork or an entire room prior to installation.
Professional Delivery and Relocation
White Glove Storage and Delivery serves as a full service delivery and relocation company, setting a new standard for quality within our industry. We work closely with you to ensure your clients' treasures are protected and delivered with unparalleled care and attention to detail.
Packaging, Shipping and Crating
We can package and ship furniture, artwork and antiques with no minimum weight or size. Whether it's shipping a sofa to Seattle or sconces from Italy, no job is too small or too large.
White Glove Storage and Delivery also has expert technicians that can pack and/or receive overseas containers as well as assist all customs requests and requirements for international shipments.
Specialty Installations
White Glove Storage and Delivery specializes in the installation of paintings, chandeliers, sculpture, porcelain, crystal and other delicate items, large or small.
Restoration and Repairs
We do have a repair person to assist with freight damage. We are also able to work closely with your selected restoration and repair experts, ensuring safe transport and/or providing a secure space for restoration work and storage at our Austin and Dallas facilities.
Your valuables are our precious cargo. Fill out a receiving request for your incoming order.
Let us give you a quote on your next project. We'll take care of all the details.